Entertainment
41 Unique Birthday Gift Ideas Your Husband or Partner Would *Legit* Use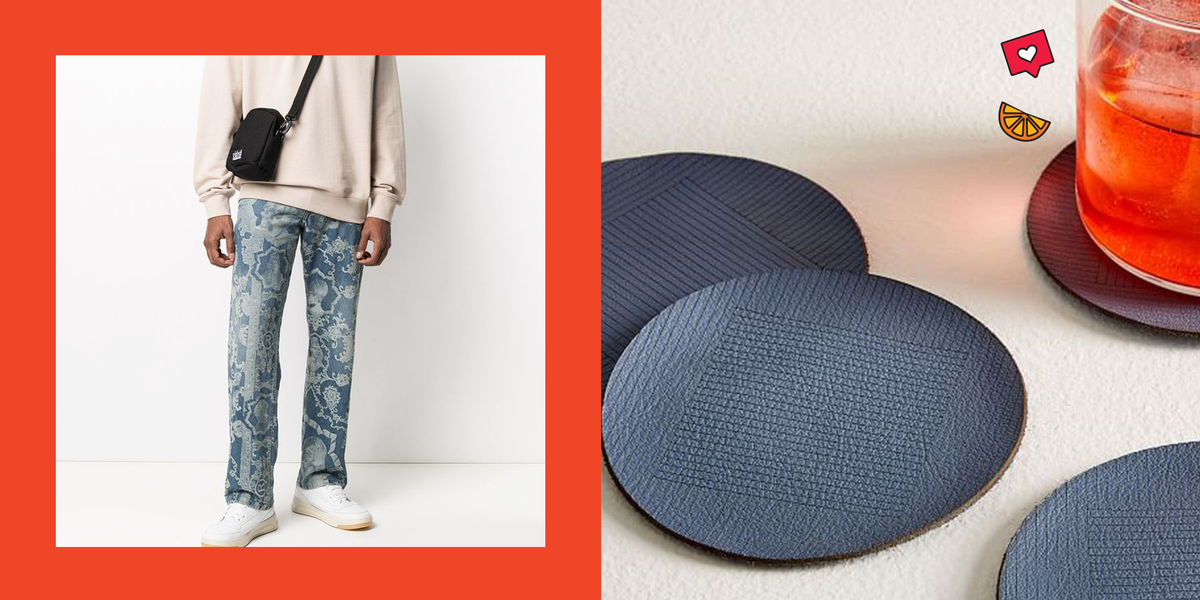 The longer you've been dating or married to someone, the easier it is to fall into a mundane routine and get stuck in a rut—I'm talking about gift-giving, here! If you've already used up all of your good gift ideas back when your hubby was still your boyfriend and are now finding yourself buying them the same old thing year after year (or let's be honest, every holiday) but in a slightly different color, then it's time to spice things up! Empty your online shopping cart right now and scroll through this roundup for some new birthday gift ideas.
Whether they're the athletic type, a foodie at heart, or just someone who appreciates a good cup of coffee, there's definitely a present in this roundup that they'd love to unwrap on their bday. And since one of the perks of being married is sharing everything, there are a few gift options in here that the both of you can enjoy. Lucky you! So with that being said, scroll ahead for 41 of the best birthday gifts for your husband or partner this year.
Advertisement – Continue Reading Below
1
This Grooming Gift Set
34-Piece Beginners Clipper and Trimmer Kit
The Cut Buddy
amazon.com
$69.99
I don't want to be dramatic, but this 34-piece kit comes with literally everything anyone could ever need for cutting and trimming hair and beard whiskers. The perfect gift for someone who loves grooming.
2
an award-winning suitcase
Carry-On Pro Plus
Excited to start traveling together again? (Y'know, when the world opens up.) Get him airport-ready with this carry-on that has it all: a protective shell, whisper-quiet wheels, and tonssss of space for packing.
3
This Skincare Set
Discovery Bundle
LBB Skincare
wolfandbadger.com
$145.00
If your partner is constantly stealing your face cream (same), get 'em some skincare they can use at home, take traveling, or bring to the gym. This set comes with everything he needs to stay out of your stuff: a moisturizing balm, cleansing wipes, and a relaxing oil blend.
4
This Pack of Socks
Black Socks
Fini Shoes
fini.shoes
$17.99
Everyone loves a pair of cushiony new socks, but if you make that five pairs of cushiony socks and present them in a pizza box? Your husband or partner will love the gift even more.
5
This Pair of Joggers
Pro Slim Fit Jogger Pants
Good Man Brand
nordstrom.com
$128.00
If your person only wears clothes that are comfortable enough to sleep in, these cozy joggers are a must. But unlike those super-worn pajama bottoms that you wish you could toss, these lounge pants can actually be worn in public, too.
6
This Charging Dock
Wireless Phone Charging Leather Tray
Courant
food52.com
$175.00
With this clever birthday gift, they can charge their iPhone and AirPods while storing glasses, keys, and wallet all in one (very sleek, might I add) spot. You won't mind having this charging dock, which is covered in Italian pebble-grain leather, on display.
7
This Jumbo Blanket
Original Stretch Smoke Grey
Big Blanket Co
amazon.com
$149.00
Curl up together comfortably with this 10-foot by 10-foot blanket (yep, that's 100 square feet of super soft fabric). Did I mention it's temperature-regulating, so you won't get too hot in all that blanket?
8
Some Basketball Training Equipment
Phenom 5-Piece Basketball Bundle
POWERHANDZ
amazon.com
$138.99
Get them this set of training equipment. The weighted gloves, weighted ball, and anti-grip basketball sleeve will definitely help them improve their game. Plus, it comes with a matching wristband and a drawstring bag to carry it all in. 
9
This Phone Charger and Speaker
Oslo Energy Wireless Charging Pad & Bluetooth® Speaker
LEXON
nordstrom.com
$69.99
Got a whole lotta love for each other but not a whole lotta room in your place? Get this sleek 'n' slim Bluetooth speaker that doubles as a phone charger. Just place a cell phone on top to get a full charge. 
10
These comfy House Shoes
Slip-er 2
Picking shoes for someone else is no easy feat (yes, that was a foot pun), so keep it stress-free and go with house slippers. Apologies in advance, though, because your husband or partner will never want to take them off.
11
this luxe-looking laptop cover
Caramel Faux Crocodile MacBook Case
Chic Geeks
chicgeeks.com
$95.00
Help them take better care of their laptop with this faux croc case that protects electronics without sacrificing style.
12
This versatile water bottle
Sports Water Bottle – 32 Oz, 3 Lids
Iron Flask
amazon.com
$23.95
For someone who's always on-the-go, here's a water bottle that does all the things (like keeping your hot drinks hot and cold drinks cold) and even comes with all the bells and whistles (three different lid options!).
13
This Bottle of Booze and Glasses
1856 Premium Aged Whiskey and Old Fashioned Glasses
Uncle Nearest
reservebar.com
$2,012.00
Stock up the bar cart with this set of whiskey and four crystalline glasses. It's perfect for both winding down at the end of a long day or for entertaining guests. Heads-up: You're probs gonna have to restock that cart again shortly after buying this.
14
This Cozy Cotton Sweatshirt
Derib cotton sweatshirt
Daily Paper
farfetch.com
$163.00
They'll want to snuggle and layer up in this oversized sweatshirt long after their birthday (that is when you're not stealing it for yourself).
15
This Trunk Organizer
Car Trunk Organizer
If your SO's got a lot of junk in the trunk (I'm talking literally), get them a trunk organizer to store all the car tools, golf accessories, and random other stuff they have rolling around back there.
16
This Helpful Cocktail Shaker
15 Recipe Stainless Steel Cocktail Shaker
Not just any cocktail shaker, this one comes with a genius outer sleeve that makes mixing all the classics (a martini, mojito, Tom Collins, to name a few) super easy.
17
This Set of Bitters
Bourbon Barrel Aged Cocktail Bitters Gift Pack
Woodford Reserve
amazon.com
$28.95
Does your partner routinely order an old fashioned whenever you two go out for date night? Then theywould absolutely appreciate a set of bitters to show off their own bartending skills at home (lucky you).
18
this delicious hot sauce
Hot Sauce .003 Pineapple Garlic Reaper
Señor Lechuga
amazon.com
$11.99
They say the key to a good marriage is keeping things spicy, and believe me when I say this stuff brings the heat. But unlike other hot sauces that lose their flavor in favor of a good kick, this small-batch blend of pineapple and Carolina Reapers is the perfect balance of both.
19
This Insulated Travel Bowl
Stainless Steel Bowls
You've heard of an insulated water bottle, sure, but what about an insulated bowl? Yep, same concept (keeps hot stuff hot and cold stuff cold for hours), only now it can fit whatever you want to eat inside. 
20
This Handy Pocket Tool
Pocket Multi-Tool Pliers
Gentlemen's Hardware
amazon.com
$15.30
All they have to do is slide this little multi-tool on their key ring, and they're ready for anything—be it a bottle that needs opening or a screw that needs tightening.
21
This Beer Directory
'Atlas of Beer: A Globe-Trotting Journey Through the World of Beer'
NATIONAL GEOGRAPHIC
amazon.com
This guide has one thing in mind: beer. If your husband or partner loves trying new breweries and exploring new flavors, this atlas will help him find all the best spots.
22
This Eye Mask and Headphone Hybrid
Sleep Headphones Bluetooth Eye Mask
Whether they travel a lot for work or just have trouble falling asleep at night, this eye mask and headphone hybrid will help catch some good Z's.
23
This Cool Coffee Maker
CE251 Programmable Brewer
Once they get over how sleek this coffee maker is, they'll be obsessed with how well it works.
24
This Wine Sampler Set
Fresh Reds
Vine Box
getvinebox.com
$95.00
Any vino-lover would be stoked about this gift box. It contains glass-size samples of nine different reds, so it's perfect for celebrating a birthday together.
25
This Precision Cooker
Sous Vide Nano Precision Cooker
Anova Culinary
amazon.com
$125.92
If overcooked food is the source of many disappointing dinner conversations between you two, a sous vide will be worth every penny. This precision cooker is controlled by an app and comes in a convenient size for those of us with minimal kitchen storage space.
26
A Romantic Getaway
Mesquite Cabin Studio w/ Private Hot Springs Tub
Airbnb
airbnb.com
If you really want to treat yourself (oops, I mean them), plan a weekend trip (when it's safe to travel again) and stay at a super romantic Airbnb, like this cozy cabin in Joshua Tree.
27
This Insulated Travel Cup
Rambler Lowball, 10-Oz.
An outdoorsy type could def get down with an insulated, stainless steel, lidded cup like this. 
28
This airy Robe
Cloud Cotton Robe
Parachute Home
parachutehome.com
$99.00
If your husband or partner runs hot, they'd appreciate swapping out a thick, heavy robe with this lightweight Turkish cotton one.
29
This Salami Sampler
Salami Bouquet
Olympia Provisions
food52.com
$50.00
Hey, you wanted an original gift, and I can think of nothing more unique than a bouquet of salami. This selection from Olympia Provisions would pair well with a bottle of wine and a couple of cheeses—perfect for a little midweek birthday celebration.
30
This Concrete Holder
Decorative Tray
If you're always getting on them about leaving their wedding ring, watch, and what-have-you lying right next to the sink, then a catchall tray, like this concrete one, is a good gift for their stuff and also for your sanity.
31
A Funny Birthday Card
Bourbon Birthday Card Funny
If you and your partner don't really do the whole gift thing, get them a sweet, funny card like this one just to say you didn't forget the big day.
32
This Timeless Watch
Men's Light Brown Leather Strap Watch 41mm
Upgrade their wrist with a simple timepiece. This one features a clean white face and a classic brown leather strap.
33
This AirPod Case
Airsnap Airpod Cases
Twelve South
potterybarn.com
$49.50
This protective leather case for Airpods  comes with a convenient clip so they'll never lose those important tech accessories). 
34
This Framed Map
Personalized Map Art
JourneyPrintShop
etsy.com
$105.00
Turn sentimental locales into cool wall art with this custom piece.
35
These Coasters
Within Leather Coasters, Set of 4
Molly M
westelm.com
$45.00
Is gifting someone drink coasters too passive-aggressive? Oh well! That's what marriage is all about. 
36
This Unisex Cologne
Ombre Leather All Over Body Spray
TOM FORD
sephora.com
$49.00
With warm, rich notes of black leather, cardamom, amber, and jasmine sambac, everyone can appreciate this unisex cologne. It doesn't come cheap, but when you consider the fact that you both will be wearing it, it's basically a steal.
37
This Set of Cooking Utensils
Four Piece BBQ Set
Wüsthof
amazon.com
$100.00
If your partner loves the grill as much as you, upgrade the old set of tools with this fancy four-piece kit from Wüsthof.
38
This Braided Bracelet
Black Leather Bangle Bracelet in Stainless Steel
Esquire Men's Jewelry
macys.com
$49.50
Provided they don't shy away from day-to-day accessories, this sleek, bracelet would be a good addition to their everyday outfit. Simple, stylish, and not too in-your-face with the bling factor. 
39
This Duffle Bag
Novel Duffle Bag
HERSCHEL SUPPLY CO.
nordstrom.com
$90.00
This lightweight duffle bag is the perfect size for going to the gym or taking a weekend trip. Bonus points for having a separate compartment for shoes. 
40
This Sateen Bedding
Luxe Starter Sheet Set
Brooklinen
brooklinen.com
$74.00
A birthday gift that maybe, kinda, sorta was also for yourself? You would never! Unlike cheap sheets that only last a few uses, these sateen covers get better the more you use them. They'll feel cool to the touch like you're sleeping in a luxe hotel bed. 
41
These Whiskey Glasses
Zwilling Sorrento Tumbler Glasses
J.A. Henckels
macys.com
$20.99
Can whiskey be enjoyed without classy tumblers? Technically, yes, but your husband or partner will love using these double-walled glasses, and you'll love giving a gift that actually gets used.
This content is created and maintained by a third party, and imported onto this page to help users provide their email addresses. You may be able to find more information about this and similar content at piano.io
Advertisement – Continue Reading Below
Most Related Links :
nativenewspost Governmental News Finance News