News
Rise and Shine With These Top-Rated Sunrise Alarm Clocks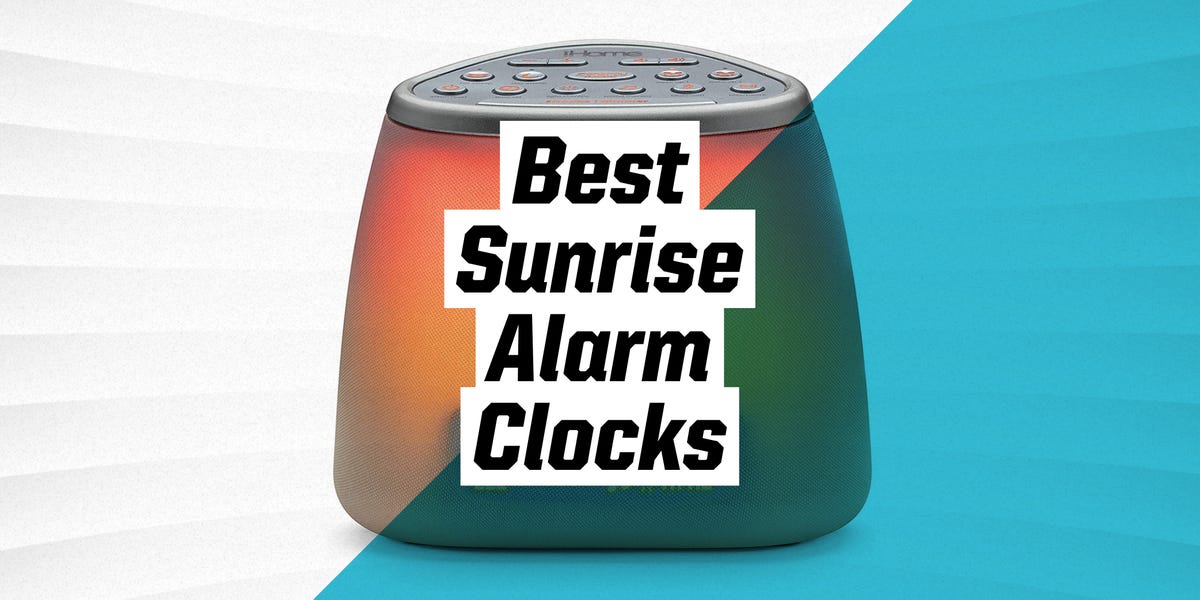 It's no wonder our sleep cycles are more out of whack these days than ever, as remembering to leave the house feels impossible without setting a calendar alert. Lack of natural light (or too much blue light) affects our circadian rhythm—the body's internal sleep-wake cycle—which can throw off our cortisol and melatonin levels, the hormones that make us bright-eyed in the morning and drowsy at night. Luckily, investing in a sunrise alarm clock is a way to trick our brains into a normal cycle without popping a pill. They're essentially like having a mini sun on your bedside that can be programmed to gradually lighten and darken your bedroom, which sets you up for establishing a healthier sleep routine.
What to Consider
Price point, design, and features are top considerations when shopping for a sunrise alarm clock. You can get something basic and affordable for around $25 that does a fine job of gradually brightening and darkening your room and even comes with nice-to-have extras like an FM radio, USB charging port, and dimmable LED display. With more to spend, there are smart sunrise alarm clocks with a slew of programs and settings to set via app, and some add chill-out options, like guided meditation to standard ambient sounds and mood lighting.
How We Chose
All of the sunrise alarm clocks we feature have average ratings of four stars or more. During our research we combed through countless user reviews and consulted expert sources, such as Good Housekeeping, Wirecutter, and Wired. Our selection includes models across price points, from budget-friendly to splurgeworthy, plus we offer options in a range of styles, from practical and user-friendly to brands that prioritize attractive design.
Advertisement – Continue Reading Below
1
Editors' Choice
Philips SmartSleep Wake-Up Sunrise Alarm Clock
Philips SmartSleep
amazon.com
$99.99
If you want something that looks like a mini rising and setting sun on your nightstand, this alarm clock is the closest you'll get to the real deal. It features a round convex face and a spot-on color gradient that ranges from pale yellow to a mellow orange-red. 
It's made by Philips, a company that's long specialized in lighting (founded in 1891, in fact) and features 10 brightness settings and five alarm sounds, plus an FM radio and an auto-dimmable display. Sunrise can be set to elapse in 20 or 40 minutes, and there's a snooze button for mornings when you choose to ignore the pseudo rising sun and pull the covers over your head.
2
Our Budget Pick
Homelabs Sunrise Alarm Clock
Homelabs
amazon.com
$24.47
This option is an excellent choice if you're in the market for an affordable sunrise alarm clock with a decent lineup of features. It's priced at under $25 at the time of this writing, with gradual illumination before your alarm sounds and dimming before bedtime, over the course of 30 minutes. There are a handful of ambient alarm sounds and eight mood lighting settings, plus an FM radio. 
While it isn't a beaming beacon of light on its highest setting, it's strong enough to coax your eyes open, and the LED display dims or goes completely dark for light-sensitive sleepers. The USB charging port in the back is a nice extra. 
3
Our Value Pick
Jall Sunrise Alarm Clock
For a bit more money, this alarm clock is a major step up, with a whopping 20 brightness levels and sunrise and sunset settings that can be programmed in 10-, 20-, or 30-minute intervals. It emits enough light to read by at night and features an FM radio and seven natural sounds to wake up to, along with seven color options from which to choose. 
Other highlights include a dual alarm and snooze button, plus a USB port in the back to charge your smartphone. 
4
Our Premium Pick
Hatch Restore Sunrise Alarm Clock
This premium pick is from Hatch, maker of well-designed sleep machines. The Restore is a smart sunrise alarm clock that's packed with features for creating a healthy wake-up and downtime schedule, all programmed via an app. There's a range of ambient sounds and mood lighting, plus guided meditation and other sleep-inducing options from their content library. 
Basic access is free, and you also get 6 months of premium access with purchase, but an unlimited subscription costs $49.99 per year or $4.99 per month.
5
The Smart Splurge
Philips SmartSleep Connected Sunrise Alarm Clock
Philips SmartSleep
amazon.com
$214.99
Here's another option from Philips, a model that's a step up from our Editors' Choice, with smart features and clever design. Thanks to its convex donut shape, the sunrise alarm clock bathes even more space in a soft glow, plus this model tracks the temperature and humidity of your bedroom to monitor ideal sleeping conditions. 
Access and set everything from alarm functions to sound and light settings via app, or opt for guided meditation before catching zzz's. Other highlights include an FM radio, a USB charging port for your smartphone, and a fully dimmable display. 
6
Best Wireless
The Glow Light Sunrise Alarm Clock
Casper
casper.com
$229.00
Created by ever-popular mattress maker Casper, this smart wireless alarm clock may be the priciest we cover, but it's also the most intuitive—plus, with sleek, minimalist design, it doubles as an attractive nightstand light. 
Set up your preferred sleep routine via app—light dims and brightens in 15-minute blocks—and if you need to pause the cycle for any reason, simply tap the button on top. Brightness adjusts with a twist for reading at night and it dims with a wiggle, so you can take it with you on a quick trip to the kitchen or bathroom. The only drawback is that it lacks voice assistant functionality. 
7
Best for Kids' Rooms
Hatch Rest+ Sunrise Alarm Clock
Hatch Baby
amazon.com
$89.99
Hatch's Rest+ wireless smart sunrise alarm is designed specifically to help infants and young children establish a sleep schedule. Like the adult version, everything is programmed via app, from wake-up and wind-down times to choosing your child's favorite color for a night light. It also features a two-way monitor and an LED display clock that dims and turns off completely. Customers give it high marks, with an average 4.5 stars from more than 3,000 reviewers.
8
Best With FM Radio
Lumie Shine 300 Sunrise Alarm Clock
This attractive sunrise alarm clock offers solid sound and a host of desirable features, though it's on the pricey side and it's a bit larger than some other options. 
There's an FM radio with five presets and a seven-day alarm, plus a range of interesting nature sounds, including a bleating goat—yup, you read that right—a favorite among customers. You can program sunrise and sunset time from 15 to 90 minutes and there are options for light intensity, which turns up bright enough to read at night.
9
Best for Light and Sound
iHome Zenergy Sunrise Alarm Clock
The iHome Zenergy is much less Zen than other sunrise alarm clocks we cover. It features 16 ambient sounds and 14 funky, lava lamp-like light displays, including  "Aurora," with waves of hot pink and purple, and "Pulse," which has a disco vibe. It's also Bluetooth-enabled, so you can wake up to your fave tunes. In addition to customizing elapsed time for gradual wake-up and evening light, there's a dual alarm and battery backup, plus a snooze button and a dimmable LED display. 
This content is created and maintained by a third party, and imported onto this page to help users provide their email addresses. You may be able to find more information about this and similar content at piano.io
Advertisement – Continue Reading Below
Most Related Links :
nativenewspost Governmental News Finance News